Event overview
Challenging times call for unprecedented ways of connecting and we did just that. As part of our Leadership Webcast Series, Radhakrishnan Anantha, CEO & MD, addressed 200+ associates from our Client Services Group. He talked about 'Authentic Leadership' at Infosys BPM and reinforced the significance of 5P's of Client Services Leadership in the New Normal - Proactive Pitches, Partnering, Power Conversations, Positioning & Passion. It was a non-stop 1.5 hour session followed by a rapid round of Q&As as well.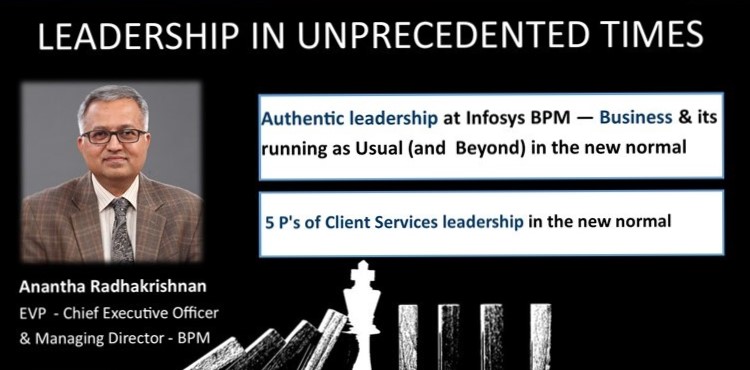 Speaker: Anantha Radhakrishnan
Anantha Radhakrishnan (Radha), is the Chief Executive Officer and Managing Director of Infosys BPM Limited.
Prior to this role, Radha was the Chief Operating Officer (COO) managing the global operations for the organization. He has played multiple roles at Infosys BPM, spanning technology, transformation, enterprise capability and global centers management, working with clients in their transformation journey, enhancing business value delivered. Further, Radha has spent many years with the Infosys group, working across consulting and IT services, before his stint in business process management. Before Infosys, he has worked with a transnational corporation and brings with him rich leadership experience and intensive domain capability across multiple industries.
Radha is a postgraduate from Indian Institute of Management, Lucknow (IIM-L), and an Honors graduate in mechanical engineering from the National Institute of Technology, Tiruchirappalli (NIT, Trichy).