Infosys BPO wins SSON India Award 2013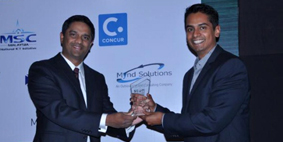 Infosys BPO won the SSON India Award for 'Excellence in Culture Creation' along with P&G for the value created by the Reporting Shared Services (ReSS) team that works on the reporting needs of P&G business managers. The award is a recognition of the efforts taken by multiple teams working together in the true spirit of collaboration to create a sustainable program of continuous improvement.
The award was presented at a glittering ceremony held at the Hyatt Regency in Gurgaon on December 3. The ReSS team was the winner of the value creation award at SSON Asia last year as well.
Related reading
Infosys BPO wins award for Excellence in Value Creation at SSON Asia 2012